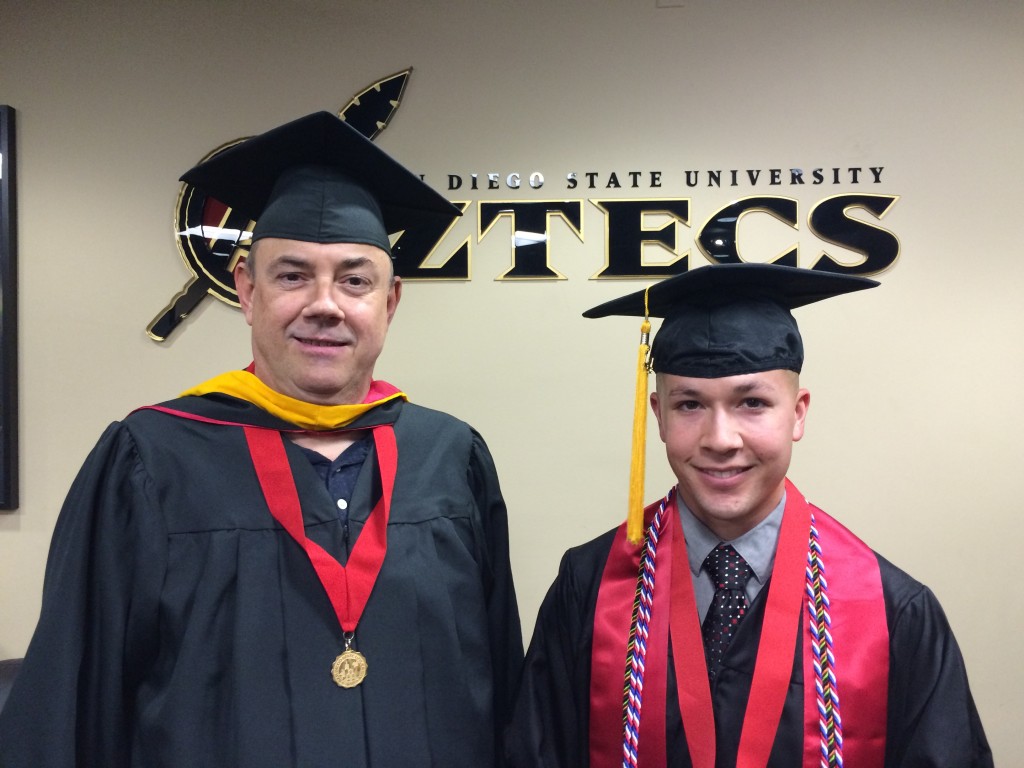 Congratulations to Dan Carrigan for being named the 2015 Outstanding Graduate for Computer Science! He was also honored with being named the 2015 Outstanding Graduate for the College of Sciences.
Dan graduated high school in 2002 in Colorado with an interest in game programming.  He completed some college in Colorado, and then in Arizona, before he joined the Marine Corps in 2006.
Over two deployments to both Iraq and Afghanistan, he was promoted up to Staff Sergeant.  He was accepted to a commissioning program and, after earning his bachelor's degree, commissioned as a Second Lieutenant in the Marine Corps.
He attended SDSU beginning May 2012 and completed all graduation requirements in December 2014.  His leadership and public speaking experience in the Marine Corps greatly influenced his classroom interactions.  He was often the group leader or spokesperson in each class within and outside the major.  Dan graduated with a 4.0 in the major, and spent many semesters on the Dean's List.
While at SDSU, he took special interest in artificial intelligence and game programming.  Those teachings will help him in his future, non-military, endeavors.  Dan is currently developing and programming three iOS applications.  He plans to submit them into the App Store soon. Dan's son was born in February 2013, and his daughter in March 2015.  One of his goals is to design and create educational applications for them.
Each outstanding graduate also chooses his most influential professor and Dan chose Alan Riggins. Dan chose Professor Riggins "because as his adviser, he provided incredibly helpful guidance that shaped the course of Dan's time at SDSU.  As a lecturer, he was informative, clear, and always fair.  His assignments were challenging, but satisfying and useful.  Lastly, as a staff member, he was always helpful, no matter if students would ask questions outside of his office hours, or even about a different class.  Professor Riggins is an asset to SDSU's Computer Science department; CS students should always utilize his guidance."