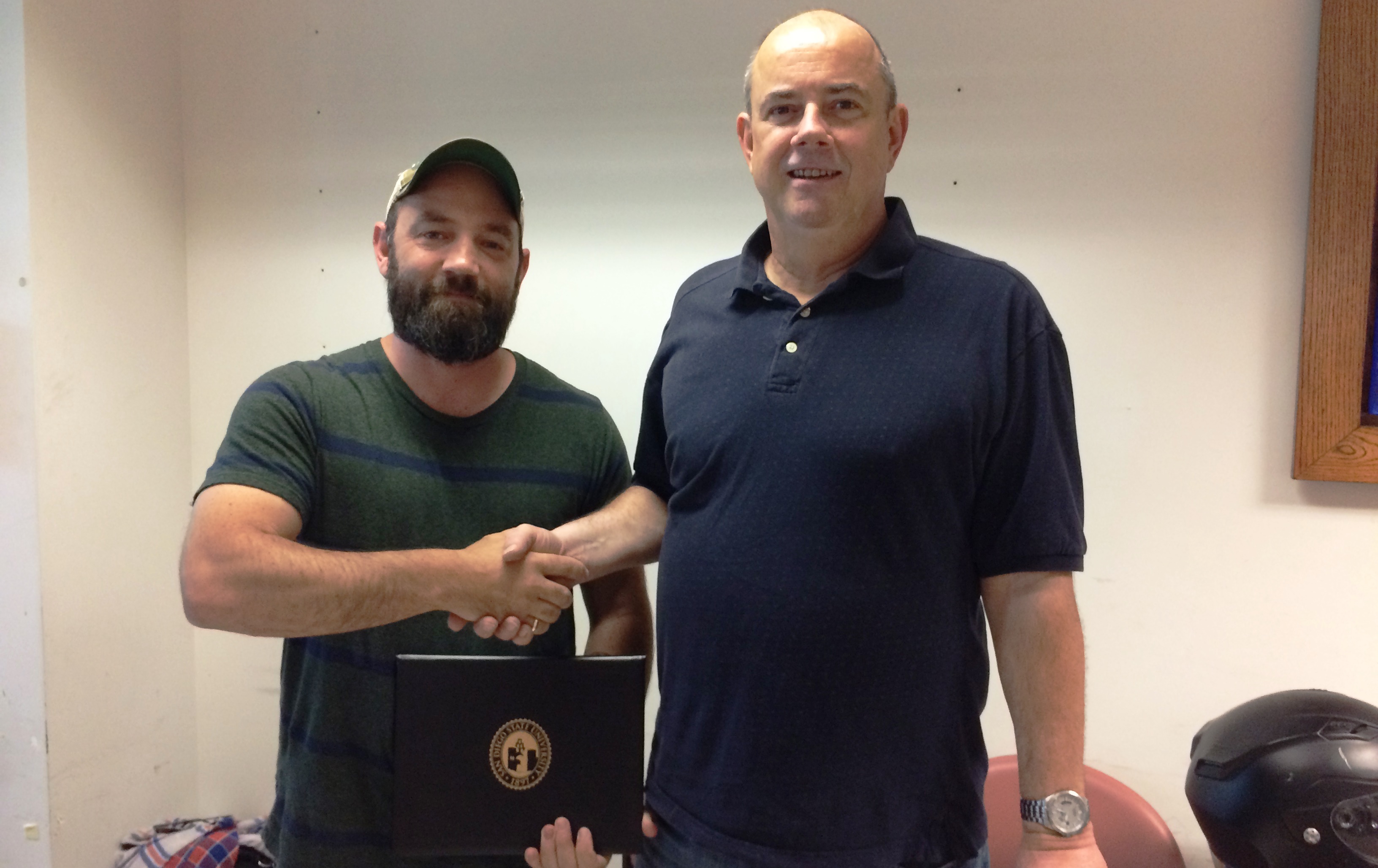 Congratulations to Archie Archbold for being named the 2016 Outstanding Graduate for Computer Science! Every outstanding graduate gets to choose his most influential professor and Archie chose Professor Alan Riggins (his fourth time in a row!). I asked Archie about his experiences here at SDSU, what his plans are for the future and why he chose Alan has his most influential professor. Below is what he had to say.
"In 2011 I found myself out of work at which point I expressed to my wife Annie that I wish we had the ability for me to go school for computer science. Without hesitation she said, "We can make it work." And that's where this all began. (My wife is awesome by the way) Leaving the house to go to my first college level class I promised her that I would graduate with a 4.0. This was a big promise since I graduated the bottom of my high school class 20 years earlier.
After transferring from San Diego Mesa College in fall/2014 I started to realize just what the computer science major was all about and luckily I really enjoyed it.  But the biggest thing I discovered was how much I actually love helping OTHER people understand the things that I worked so hard to understand.  I would put study groups together for almost every class I took and also posted study sheets and information that I found that helped me understand the topics. When given the chance to TA for the cs310 Data Structures class excitedly accepted and it has become a welcomed part of my every day.  Helping fellow students helps me to understand the material even better. I feel that I have a unique view of how to best learn the material and like to share my experience with other students. I recommend anyone who wants to truly understand something to try explaining it to someone else. It will expose the holes of your own knowledge and make you learn more to fill those holes.
The veteran's association here at SDSU has been great. The information and support they have given to me has helped me greatly. It seems that my 4 years as a US NAVY helicopter crewman still continues to positively affect my life.
I recently applied and got accepted to the CS masters program here at SDSU with the hopes to one day be able to teach in a CS department. My goal isn't to strictly be a teacher but I would love to integrate teaching into my career path.  It turns out that I love to teach.
SDSU has been fantastic. I was very nervous about coming here but the professors, staff and fellow students have made it feel like home, which is good since I spend more time here than at my actual home.
I chose professor Riggins as my most influential professor because that's exactly what he has been. As my Major counselor, he was the first professor that I met here at SDSU.  At orientation he scared the heck out of me when he kept it real and let us know, in no uncertain words, that there's a good chance that some of us in the room would not make it to the end. I went on to have Professor Riggins for 4 classes. His ability to clearly break down complicated topics to easy to understandable chunks and then give challenging projects based on those chunks has allowed me to back up my theoretical knowledge with practical application. He has been a resource to me both in and out of the classroom and I can't thank him enough for all he has done for me.
Going forward, I have an offer to work for SPAWAR here in San Diego. They offer a very wide variety of computer science projects which will allow me to try, discover and choose a direction I would like my CS knowledge to take me. I feel that every student is nervous about whether they are prepared enough to enter the workforce and succeed and I am no different. But if this major has taught me anything, it's that no matter how good the teachers are, if you're not willing to work hard, you're probably not going to excel. My under grad time might be done but my learning is just beginning.
A HUGE shout out to my wife Annie and two children Jacob and Logan. I am not exaggerating when I say that I could not have done this without you"