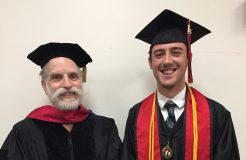 Congratulations to Kellen Gillooley for being named the 2018 Outstanding Graduate for Computer Science! Each outstanding graduate chooses his most influential professor and Kellen chose Dr. John Carroll. I asked him to tell us about his experiences here at SDSU, why he chose Dr. Carroll as his most influential professor, and what his plans are for the future. His response is below.
"I came to SDSU for the Fall 2014 semester as a nervous high school graduate with no idea what my future held. Fortunately, that future would be 4 years of amazing classes, great friendships, and new experiences. At SDSU, I learned a lot about Computer Science, but I also learned many skills for life along the way. The classes, experiences, and adventures I had at SDSU have forever changed who I am as a person, and helped me grow in so many different ways.
I was extremely honored to find out I had been selected by the faculty as the Outstanding Graduate for the Computer Science Department, and was even more grateful to be able to select a Most Influential Faculty Member to honor as well. For my selection, I picked Dr. Carroll. As an advisor and professor, Dr. Carroll had a great impact on my development as a Computer Scientist and a person. 
As an advisor, Dr. Carroll gave me several pieces of advice and guidance that helped me be successful in my studies at SDSU and in my life outside of school. In his Discrete Math course, I learned about the fundamental concepts of logic and reasoning that are the most important skills a computer scientist needs. In his Operating Systems course, I learned not only about the major computer systems we use today, but also how to take on a difficult challenge (in this case a tough course) and use handwork and determination to be successful. All of these skills have proven so valuable to me at SDSU and in the world outside of school. 
In addition to learning these skills from Dr. Carroll, he also embodied all of the things he taught us as students. He always worked so hard to make his classes as impactful and insightful as possible. His level of preparation for every lecture was astounding, and he always went above and beyond to reach out to students and help and answer questions. His dedication to his students and his profession is something I have learned from and hope to apply to my own career. 
In addition to Dr Carroll's guidance and lessons, I would not be where I am or who I am today without my friends, family, and girlfriend who all supported me along the way."
Beginning this summer, Kellen will be working as a Software Engineer for BAE Systems. Best wishes to Kellen and the entire Class of 2018 for continued success in all their future endeavors.