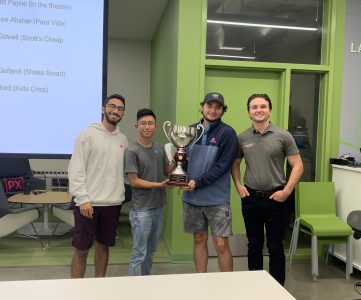 Two SDSU Computer Science students and two Fowler College of Business students are on the road to founding a company together after winning $1000 in a recent campus business pitch competition.
Conor Phan, a third year double majoring in Computer Science and Business, and Jason Sunardi, a senior international student majoring in Computer Science, met by chance at Phan's apartment a week before the Lavin Center's VentureStart Competition. The duo met their other two team members, Brian Hanna and Nolan Matura, mere hours before collaborating under pressure.
In just 90 minutes, the foursome had to identify a problem in one of six areas – malware, privacy, ecommerce, social media, data, or identity management – and propose a viable, research-backed solution that could launch a profitable business. Then, their proposals would be judged by alumni and successful founders.
After considering and ruling out several ideas, the team settled on solving the problem of  caregivers needing a secure, efficient way to approve children's online purchases across mobile apps.
Essentially, their idea, dubbed IntelliPay, would function like two-factor authentication, passing information about the potential purchase and payment method between devices securely.
"We needed the Computer Science side to come up with any solution," said Phan. "If you don't have the technical know-how, you won't be able to answer the judges' questions."
"This competition is definitely an asset," said Sunardi. "We solve problems on a daily basis as Computer Science students, but we mostly solve problems in code. With the VentureStart Competition, we can solve real life issues."
Both Phan and Sunardi appreciated the competition and the Lavin Entrepreneurship Center for bringing people from the realms of computer science and business together.
"It can be really scary to talk to people outside of your major. You have to literally step out of your comfort zone to talk to them," said Sunardi.
But meeting new people through chance encounters can pay off. "Those random small moments come into something much bigger," said Phan.
Since winning, the team has continued to meet weekly to do additional market research and code their solution.