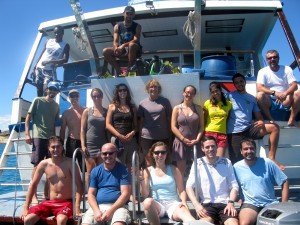 Dr. Rob Edwards is the recipient of the 2014-15 Scholars Without Borders Outstanding International Scholar. Scholars Without Borders is an interdisciplinary honor society made up of approximately 350 SDSU faculty, staff and students. The organization is dedicated to international exchange and service and recognizing scholarly achievement in a global context. The Outstanding International Scholar award is given once a year to recognize a faculty member who has demonstrated outstanding contributions to the international arena.
Dr. Edwards's approach to teaching, research, and service embodies all of the things we look for in the Teacher/Scholar Model and remarkably, Dr. Edwards's research, teaching, and service activities all have very significant international components. His research program is inherently interdisciplinary and international, involving collaborations with scientists from Europe, Asia, South America, and Australia. He has led research expeditions to study coral reefs and other biological environments off the coast of Brazil and in a remote part of the Pacific Ocean. He and his students have presented the results of their work at scientific meetings in Switzerland, the Netherlands, England, Germany, Greece, and Italy.
Dr. Edwards's teaching extends far beyond our campus and our national borders, helping students learn to engage with people from many different countries. Among many other examples, we note his highly successful exchange program between SDSU and the Federal University of Rio de Janeiro. This collaboration grew out of a 2009 invitation to teach a course in microbial bioinformatics at a national laboratory in Brazil. Dr. Edwards has visited Brazil many times since then, teaching workshops and classes, and now has a Visiting Professor position at the Federal University of Rio de Janeiro. He and his colleagues were awarded a FIPSE grant to develop an exchange program, which has provided a unique international experience for more than 60 students from both countries.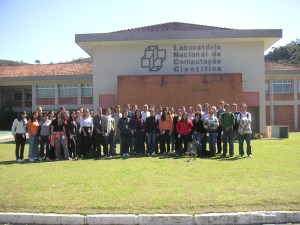 Dr. Edwards has also made notable international contributions in the area of service. In 2013, the National Science Foundation was charged with building an international team to visit scientists in Indonesia, the country with the largest Muslim population in the world, with a goal of building scientific research ties.   Dr. Edwards proposed, organized, and served as scientific chair for a workshop in Indonesia, which included a dozen scientists from the United States and a similar number from Indonesia. The workshop was extremely successful, providing a basis for continued scientific engagement and cooperation between the two countries.
Dr. Edwards exemplifies the goals of Scholars Without Borders and by his example, he is inspiring students and colleagues alike to become scholar-citizens of the world.