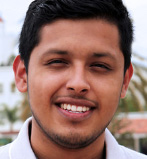 The CSU Trustees' Award for Outstanding Achievement are given each year to those students who demonstrate superior academic performance, personal accomplishments, community service and financial need.  The 2015 awardee for San Diego State University was our own Computer Science student, Edwin Perez.
Edwin Perez, a Hispanic American born to parents who were not legal residents of the United States, grew up moving from city to city and living in fear that his parents would be deported. Late in high school, Edwin recognized a college education would offer him the opportunity to realize his potential and escape the poverty and abuse he and his siblings endured throughout childhood.
Although he did not have access to a personal computer in high school, Edwin took advantage of every opportunity at San Diego State University to learn about information technology and computer programming. This year, Edwin is a teaching assistant for a computer science class, a position that typically would only be offered to a graduate student. Following graduation, Edwin plans to pursue a career as a software engineer designing mobile software for companies like Apple or Google.
Edwin states "I'm willing to put in the time and effort, because I know in the end it will all be worth it."
We would like to congratulate Edwin on this great achievement and wish him much success in his future endeavors.
Source content by Aaron Moore and can be found at http://www.calstate.edu/foundation/trusteesawards/awardees/2015/sd-perez.shtml