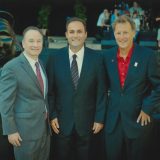 Once an Aztec, always an Aztec! Aztec for Life!® We hear these words spoken in graduation ceremonies, in promotional videos, and on the scoreboard at Aztec games. But what do these words mean? Some say they mean that in our hearts, we will always have a love for SDSU. Others say they mean we have all been changed in some lasting and profound way by our experience here at SDSU. After leaving this esteemed university, multitudes of Aztec graduates have gone out into the professional world, having received tools to help them attain professional success. They populate our city, our state, our country and our world, and many of them become very influential members of society. Fortunately, some of our SDSU alumni have received the words, "Once an Aztec, always an Aztec!" and Aztec for Life!®" as a call to action – to take their love and appreciation for all SDSU has given them and act on it by helping students with the transition from the university life into the professional world.
One alumnus who has reached out to our students and made a positive impact on their professional lives is Keith Harris. Keith received his BA degree in Economics from San Diego State University in 1991. He is currently the Director of Sales and a recruiting consultant at Foghorn Consulting, a company in the San Francisco Bay area that works closely with technology leaders to leverage hybrid and public cloud infrastructure in the best way possible. Since 2010, Keith has also been a member of the SDSU Bay Area Regional Committee. The Committee assists in the career development of SDSU students and graduates, by promoting internships, mentoring, and helping secure long term employment for SDSU students and alumni. Keith has used his influence and networking ability to help our SDSU Computer Science students and alumni secure internships and jobs with very prominent companies. For example, a current SDSU student named Kevin recently received an internship at Amazon after receiving help from Keith. In the process of helping Kevin, Keith learned about another SDSU student named Barry. Barry was interested in computer game programming, so Keith introduced him to a friend of his, Mike Gonzales (also an SDSU alumnus), who's been in the gaming industry for 20 years. Mike Gonzales met Barry and gave him an internship with his company. This is just one example of how the actions of just one SDSU alumnus can help to create a family dynamic and a network to help multiple SDSU students and graduates.
Keith is not alone. Growing numbers of Aztec alumni are coming back to the university to mentor students and alumni through the Aztec Mentor Program (AMP). The Aztec Mentor Program is a collaboration between SDSU Career Services and SDSU Alumni, and its purpose is to connect alumni with SDSU juniors, seniors, and graduate students to support them to become career ready. The Aztec Mentor Program was started in 2013 and has grown from 100 matches in 2013 to 1,266 matches in 2015-2016. To date, over 4,700 students have been matched to mentors and the program continues to thrive.
We strongly encourage both alumni and students to participate in mentoring activities, whether you participate in the Aztec Mentor Program or engage in other mentoring activities outside of the university. These activities are a great way for our students to become engaged and focused on their future careers after graduating from SDSU. They also give alumni a mechanism to keep connected with the university and tap into the young, talented, and well educated individuals that emerge from it. Our sincere gratitude goes out to Keith Harris and all of those alumni who are mentoring our SDSU students. You are definitely Aztecs for Life!®