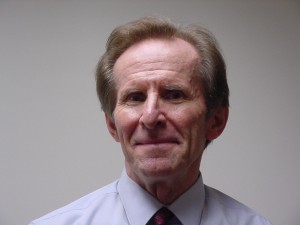 I am sad to report that Roman Swiniarski passed away Sunday, October 12, 2014.  His wife, Mrs. Halina Swiniarski, informed me that he died peacefully at home, after battling pneumonia for some time.
We were privileged to have Roman as a member of our Computer Science faculty for 26 years until his retirement last May.  His interests spanned a wide variety of topics in artificial intelligence and machine learning, with a special emphasis on rough sets and data mining techniques.   He was an exceptionally productive researcher, with publications that have been cited thousands of times by his colleagues.  He was also an internationally recognized scholar, who received Fulbright Senior Specialist grants for work in Poland and India, and was frequently invited to visit and speak at respected institutions around the world.
Roman was also an outstanding teacher and mentor, who inspired countless numbers of students.  His enthusiasm and dedication to our department and our students were unsurpassed, even during recent years when his health made everything more difficult for him.  We will all miss him greatly.
Leland Beck
Roman Remembered
"This is the saddest news I have received for a long time. Roman was a real gentleman, and a dedicated teacher and scholar. He treated everyone with great respect and was very humble despite his many achievements.  He will be missed greatly." – Mahmoud Tarokh
"Roman was indeed a wonderful colleague and scholar, everybody liked him in our department." – Marko Vuskovic

"I do feel deeply sorry to hear the sad news.  Though it has been a while, I have not had a chance to talk to him, he was always so friendly and kind to everyone in my memory.  Because of his well known and internationally recognized excellent reputation in his research areas, I still remember that I had an officemate, who was vice president in a university in mainland China, came to work with him.  I will always remember his kindness.  Please convey my deepest condolences to his family." – Kung-Jong Lui
"I have told literally over a hundred people that Roman was the most polite and courteous person I have ever met. Halina is also very amazing, and was there for him, as wonderfully as anyone could have been, during his battles with health issues. We have lost a colleague, and much more than that." – Carl Eckberg
"It's very sad to know that Roman left us. He has been very nice to his colleagues and will be missed very much" – Tao Xie 
"Please convey all our condolences to Halina and daughter Anya. Penny and I recall Roman, and his family, with great respect and high regard. Roman was a rare gentleman!" – John Donald and wife Penny Borax
"This is indeed very sad news. Roman was one of the most courteous people I have had the pleasure of knowing. I still remember the tone in which he asked questions from me in my interview. It left quite an impression on me and I made the point of getting to know him outside of the work environment. He was always humble and insistent on hiding his vast knowledge of machine learning. My condolences to his family. May he rest in peace." – Faramarz Valafar
"I am so sorry to hear this news. Roman was such a gentleman, humble, and always friendly. I always enjoyed talking with him and also with his wife and daughter." – Judith Sowder
"I'm very sorry that Roman is no longer with us. He was one of the most dedicated people I have known, as well as one of the kindliest." – Vernor Vinge
"This is truly a sad day as many have already expressed. He was a superb teacher and scholar. This past summer, I had lunch with Lesley Bryant and she brought up the fact that Roman's courtesy and behavior made him the most memorable person from the time she spent with us. He will be sorely missed." – John Elwin
"I too revered Roman. A true mensch and scholar." – Peter Salamon
"Some of you will remember the first time that the Department had a visitor from Russia. The Soviet Union was breaking up, so some scientists were allowed to travel. But it turned out that the guest speaker spoke no English. All was not lost, however, when Roman volunteered to translate the talk, sentence by sentence. The affair was conducted in Russian, Polish, and English. Fortunately, all 3 languages use the Greek alphabet for Mathematics." – David Lesley
"I recall a Department affair at Santee Lakes in the late 1980's. My son Danny was an unattended toddler on a tricycle at the time and he got too close to the steep bank of the lake and plunged in, trike and all. There were people around, of course, but the one who immediately rushed into the lake to retrieve the unfortunate lad was Roman. He was more sprightly then, but, as always, ready to help at the drop of a hat." – Bob Grone
"Even though I did not know him as well as some of the other CS faculty, he was always such a gracious and helpful person when I did interact with him.  We are all better for having known him." – Jo Ann Lane
"Roman was one of the kindest people I have ever met. It was truly a pleasure and a privilege to work with him and I will miss him greatly." – Amy Jensen