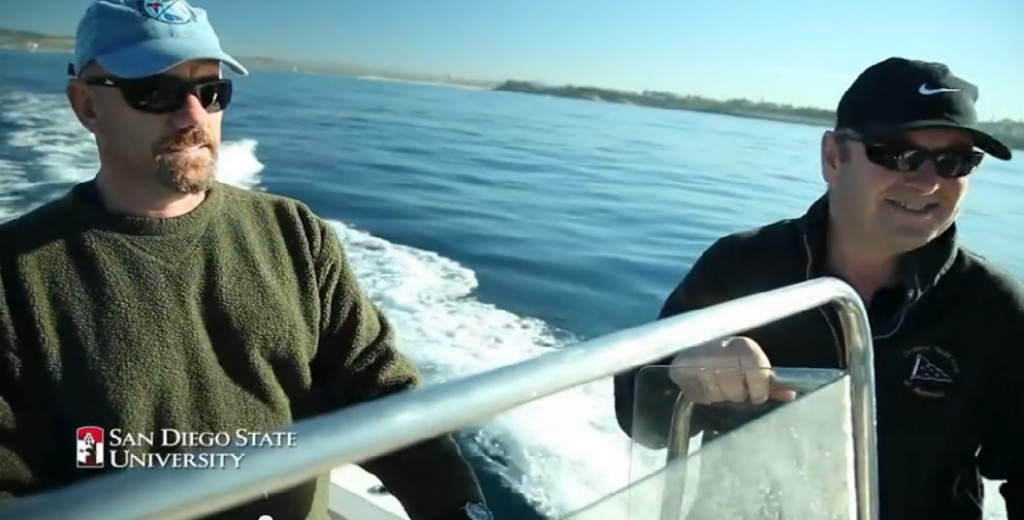 By Michael Price
This story will appear in the spring 2015 issue of 360:The Magazine of San Diego State University.
There's a transformation happening in microbiology. The price of DNA sequencing has dropped precipitously in recent years, with individual genome sequencing falling below $1,000. Lab after lab has sequenced a diverse list of species including rice, algae, mosquitoes, fruit flies and humans. The sheer amount of data now obtainable — quickly, cheaply — has turned biology into an information science, and San Diego State University biologist Rob Edwards is helping to usher in this new age.
"During the genomics revolution of the mid- to late-'90s, it became clear that genomic sequencing was going to completely change the biological sciences," Edwards said. "There are huge volumes of data. It's driving every aspect of biology."
When Rob Edwards joined SDSU in 2004, there were already quite a few familiar faces. The computer scientist with a background in biology had worked as a postdoctoral scholar with Stanley Maloy, SDSU's dean of the College of Sciences, at the University of Illinois, Urbana-Champaign. He had co-authored journal articles with SDSU virologist Forest Rohwer on the genomic taxonomy of bacteria-killing viruses known as bacteriophages.
"I was supremely impressed by the collaborative nature of the research at SDSU," he said. "It's not a competitive environment where the big fish eat the little fish and take all the credit. We have extremely friendly colleagues and terrific students."
Take to the sea
Edwards does regularly encounter both big and little fish in his research, however. He and his colleagues hunt for new data all over the world, making frequent trips to isolated coral reefs in the Line Islands and diving to collect genetic samples from their watery surroundings. They've even successfully taken a delicate and expensive DNA sequencer out to sea with them to do sequencing in real-time — the first time anyone had ever attempted this feat
Closer to home, Edwards works with SDSU's Coastal Marine Institute, making frequent trips to San Diego's waters to study a variety of life forms, such as the ecologically important kelp forests off the coast of Point Loma.
Sorting through all this raw data to find meaningful information takes a combination of biological knowledge and computational know-how. Last year, Edwards and a team of local and international collaborators created a new computational tool called cross-assembly that allowed them to identify a never-before-seen bacteriophage present in three-quarters of the world population.
New data, new drugs
Edwards hopes that cross-assembly and other tools like it will help biologists hone in on entirely new bacteria and viruses that could become the next life-saving drugs of the future. These tools might also be used to identify aspects of known genomes that can predict someone's risk for disease or how effectively one drug might work compared to another.
"As we move toward personalized, precision medicine, these kinds of techniques are going to become more and more important," he said.
Thursday, March 26, 2015
http://newscenter.sdsu.edu/sdsu_newscenter/news_story.aspx?sid=75503