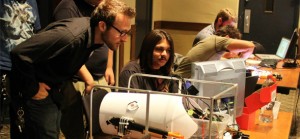 Members of the Mechatronics Club show off the latest prototype.
By Hallie Jacobs
San Diego State University engineers are making waves with their newest project — an autonomous "RoboSub."
Autonomous, meaning existing or capable of existing independently, refers to the submarine's ability to operate without remote controls. The SDSU Mechatronics Club — an on-campus group of engineers that deals with mechanics and electronics —  is building and programming the submarine to process images, navigate through an underwater course and launch artificial torpedoes at targets.
Using complex algorithms and programmed image processing, the RoboSub will be able to locate different targets and maneuver through obstacles by recognizing color patterns
An SDSU first
The Mechatronics Club will debut its hard work at the 17th annual Association for Unmanned Vehicle System International RoboSub competition in Point Loma in July 2014. The 2013 competition featured more than 30 national and international collegiate teams. The team's quest to enter the competition is an SDSU first.
About the Mechatronics Club
The Mechatronics Club was founded in 2011 and is a place for students of all engineering disciplines to meet and apply their knowledge in real-world applications.
The team is comprised of undergraduate students from a cross section of campus, including mechanical engineering, computer science, aerospace engineering and marketing.
"The club is a great opportunity to get real-world experience," said Josh Pritts, an electrical engineering major and vice president of Mechatronics. "You need hands-on experience in this field and this club gives students plenty of opportunities to take what they learn in the classroom and apply it to an actual project."
Next steps
Mechatronics recently finished constructing a prototype RoboSub and are currently working to develop software that teaches the RoboSub how to "think."
Through algorithms and extensive programming, the sub will be able to filter colors, enabling it to navigate through obstacle courses.
They hope to begin to test the sub in a pool this spring.
Real-world experience
With San Diego's booming "blue" technology industry, marketing major Marian Sterk is astounded that SDSU hasn't participated in previous years.
"We want to show that SDSU is an engineering powerhouse," Sterk said. "All the major blue technology contractors are here in San Diego, so we want to make sure they know that SDSU means business."
Monday, October 28, 2013
SDSU NewsCenter
http://newscenter.sdsu.edu/sdsu_newscenter/news.aspx?s=74452