Pictured Above: 2017 SCC Team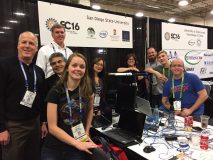 Pictured Above: 2016 SCC Team
Each year, the SDSU Departments of Computer Science, Computer Engineering, and Computational Science participate in the renowned Supercomputing Conference Series by attending workshops, submitting papers and posters, and setting up a research booth. In 2016, with a generous grant provided by Intel, SDSU competed in the Student Cluster Competition (SCC) for the first time, and the rewards of competing were extensive and varied. Led by Dr. Mary Thomas, the SCC activity is part of an interdisciplinary effort to expand our students educational experience in the area of high performance computing (HPC). Students participating in the Student Cluster Competition program receive in-depth, hands-on experience working with the most advanced high-performance computing (HPC) cluster hardware available.
San Diego State University has again been selected to participate in the 2017 Student Cluster Competition (SCC) in November 2017 at the Supercomputing Conference in Denver, Colorado. This year, SDSU will partner with Southwestern Oklahoma State University (SWOSU), IBM and NVIDIA to form a cross-institutional Student Cluster Competition Team.
This year, Dr. Chris Paolini collaborated with IBM to obtain the loan of a new POWER8 cluster, which will include NVIDIA GPU cards. The team will learn about advanced system administration of the cluster, advanced parallel computing technologies, and how to run cutting edge scientific applications. In addition to traveling to an international conference with over 13,000 attendees, they are part of a key event of the Supercomputing Conference: the Student Cluster Competition (SCC). Being part of the SCC means that  the students get to attend events and workshops for the SCC teams, compete against 15 other teams from around the world, and gain the visibility of thousands of attendees in the field of science and technology. This year the team includes:   SDSU CE & EE students Dane Fairchild, Ryan Grant, Vaugn Ganem Haka, Tuan Nguyen, and Yajush Sharma; and Prabhjyot Singh Saluja from SWOSU.
Donors who contribute to this effort will have the opportunity to make a positive contribution by helping develop future leaders in the industry. You will also be contributing to a new, high profile program at SDSU that is interdisciplinary, interdepartmental, and collaborative. Sponsor names will be displayed at the meeting and listed on the project website (https://edoras.sdsu.edu/~mthomas/sc/scc/scc16/). Sponsors will also receive name exposure on news items, papers, and poster acknowledgements. The SDSU/SWOSU team sponsors include IBM, NVIDIA, Northwest Grumman, the College of Sciences, and the Computational Research Center.
The team is already planning for SC2018 which will be held in Dallas, TX. They are always looking for students to participate on the project, faculty to mentor the students, and donors to provide funding to send the team to the competition. This is a great opportunity for both students and donors as well!
If you are a student looking for exciting and practical ways of applying and expanding the knowledge you've acquired in the classroom while gaining impressive experience to list on your resume, consider joining the SDSU Student Cluster Competition Team. If you are an individual or company looking for affordable ways to make a positive difference in the development of future leaders in the field of Computer Science, Computer Engineering, and Computational Science, consider making a monetary contribution to the SDSU 2017 Student Cluster Competition team. If you have any questions or would like to participate as a team member or donor, please contact Mary Thomas at mthomas@mail.sdsu.edu.