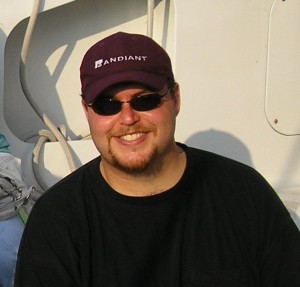 Degree & Year Graduated
B.S. Computer Science 2002
How did you become interested in your field?
I intended to work in robotics and got caught up in programming. That led me to CS.
What do you do for a living now? What do you enjoy most about your current career position?
I have a very rewarding career in information security consulting. I am a Senior Consultant (and optionally use Sr. Information Security Consultant when it's useful) for a world-class digital forensics and incident response firm called Mandiant (www.mandiant.com).  I have historically performed the "ethical hacking" services offered by Mandiant but have recently begun to transition more into the investigative side of the house. I have also developed a free tool for Mandiant and teach cyber security to law enforcement agents.
What have been the biggest challenges in your career?
The hours at my company are longer than average, which presents some challenges with being a family member. The technical expertise at Mandiant require all consultants to perform to a certain high bar and finding the time to work, be productive with my family, and maintain my technical expertise is an interesting balancing act.
What is the best professional lesson you learned from the Computer Science Department?
I learned a lot about the basics of programming in several different languages which helped me to identify how so many other languages are similar.  Coming out of SDSU, I had a confidence that, even if I don't know a programming language at this moment, it won't be terribly difficult to apply my knowledge from other languages to any new language (XPath has been the primary exception to that rule). Further, I learned the value of networking — I got my first programming job with the help of a fellow alumna.
What was the best class you took? Did you have a favorite Professor?
I took Neural Networks with Roman Swiniarski and those lessons of machine learning have never stopped being fascinating to me.  Unfortunately, I have not been able to apply those lessons to my career field.  I also took Computer Security with (then adjunct) Tom Perrine.  That was a motivating factor in the path that led to my current career and position.
What advice do you have for our current students?
Be passionate about something and become an expert in that.  Do that discipline A LOT to ensure that you don't get into a situation in which they find themselves trying to switch careers after experiencing it for the first time in a professional setting.
If you are an SDSU Computer Science alumni and would like to submit an alumni profile for the web site please email ajensen@mail.sdsu.edu