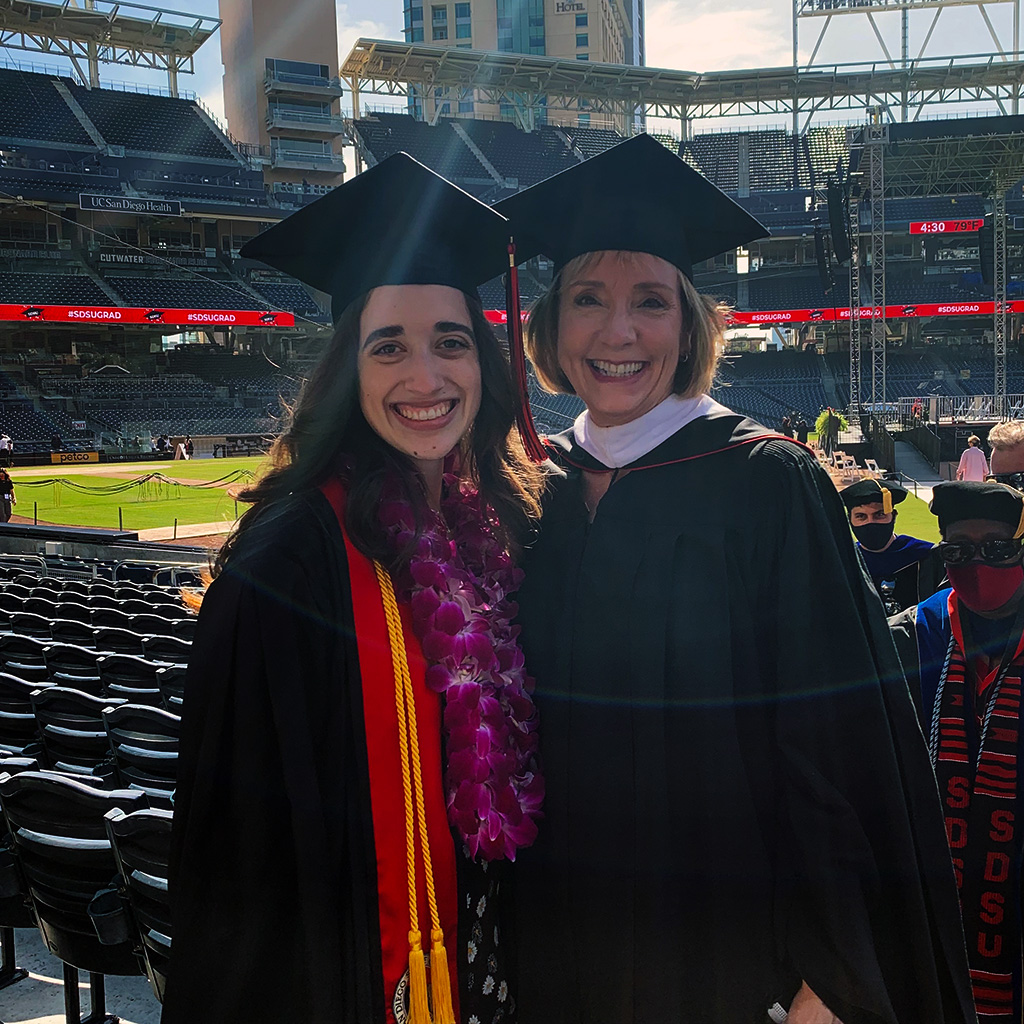 Congratulations to Samantha Quiroz for being named the 2020 Outstanding Graduate for Computer Science! Each outstanding graduate chooses their most influential professor, and Sami decided on CS instructor and undergraduate advisor Patty Kraft.
Sami shared her experience as an SDSU Computer Science student with us and explained more about why she chose Patty Kraft as her most influential faculty member.
"With no foundation in computer science, I took a gamble in deciding to pursue this difficult yet intriguing major here at SDSU. I told myself to give it one year, and if it wasn't what I enjoyed doing, then I would change majors. As a woman, it seemed daunting to pursue such a male-dominant career, and I feared I could not compete. However, that negative thought quickly changed when I entered my first computer science course – CS107. There, I met Professor Patty Kraft, who became my Most Influential Faculty Member.
Walking in on that first day of class, I found it inspiring to see a female professor teaching the fundamentals of computer science. One of the things that I noticed about her and many of the other faculty members in the CS department at SDSU was how approachable and willing she was to help, even if it did not pertain to her specific course. She encouraged me to work hard, take risks, and not to be afraid of the challenges that come my way but rather trust in what I know and seek answers to what I do not.
Alongside my academic and professional development throughout my four years at SDSU, one of the biggest takeaways that I will carry with me are the friendships that I have made and the academic relationships that I have fostered with my professors.
Since SDSU often has a smaller CS department than most universities, you have the benefit of more personal involvement from both faculty and students. The people you meet in your formative classes may very well end up attending the same courses as you throughout your years. The friends I made in these classes have become the best aspect of my academic career. We encouraged each other and truly grew together to work hard and excel in this oftentimes difficult field.
I owe a great portion of my success to their support and to the support of my professors and family. Thanks to them, I am proud to have been selected as this year's Outstanding Graduate for Computer Science.
If you are considering pursuing a Computer Science degree, do not be afraid to seek help. Be bold, and set yourself up for the best possible opportunities through class participation and extracurricular activities. I would not have had the positive experiences and friendships I formed if I did not take an active, intentional role in my education.
Finally, remember that many professors in the CS department genuinely care for student success and will walk beside you as you navigate internships, research, career pursuits, and more. Due to their influence, I was able to confidently identify and prepare myself for my future company and career, and they have my greatest appreciation."
Sami Quiroz has gone on to a career as a Software Engineer at Viasat.
Congratulations on all of your achievements, Sami!